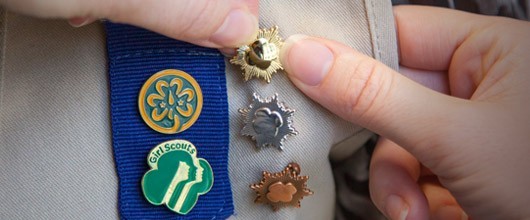 Highest Awards
Every Girl Scout goes above and beyond to make a difference in her community and the greater world. The skills and experiences she gains along the way set her up for special recognition through the Gold, Silver, and Bronze Awards.
All three awards give girls the chance to do big things while supporting issues they care about.
Highest Awards Update
As we navigate a period of rapid changes connected to COVID-19, Girl Scouts of the USA is offering a three-month extension from 9/30/2020-12/31/2020 to provide flexibility for  Juniors, Cadettes, Seniors, and Ambassadors earning Girl Highest Awards. This is particularly relevant for 5th grade Juniors, 8th grade Cadettes, and 12th grade Ambassadors who will bridge to the next PGL officially on September 30, 2020 and who typically would be no longer eligible to earn their respective award.
We will work with all girls to help them make adjustments to their higher award projects as needed. Questions? Please email ggordon@gsnetx.org.
As you earn one of Girl Scouts' highest awards, you'll change your corner of the world—and beyond. The possibilities are endless.