Gold Award Girl Scouts
Issues of the world, meet your match. 

Are you ready to make a difference in the world?
The Girl Scout Gold Award represents the highest achievement in Girl Scouts.
Open only to girls in high school, this prestigious award challenges you to change the world—or at least your corner of it. By the time you put the final touches on your seven-step project, you'll have solved a community problem—not only in the short term, but for years into the future—and you'll be eligible for college scholarships.
You can pursue your Girl Scout Gold Award if:

 You're in high school (ninth through twelfth grade, or equivalent)

 You're registered as a Girl Scout Senior or Girl Scout Ambassador

 You have completed two Senior or Ambassador Journeys OR earned the Girl Scout Silver Award and completed a Journey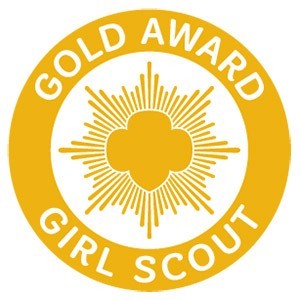 The first step towards Gold is submitting your award project proposal. Ask questions, get project feedback and more by attending a Gold Award Roundtable meeting hosted by our volunteer committee.

 Get great gifts for Highest Award recipients.